Special projects
Francesc Ruiz
HOUSE OF FUN
Presented by Florence Loewy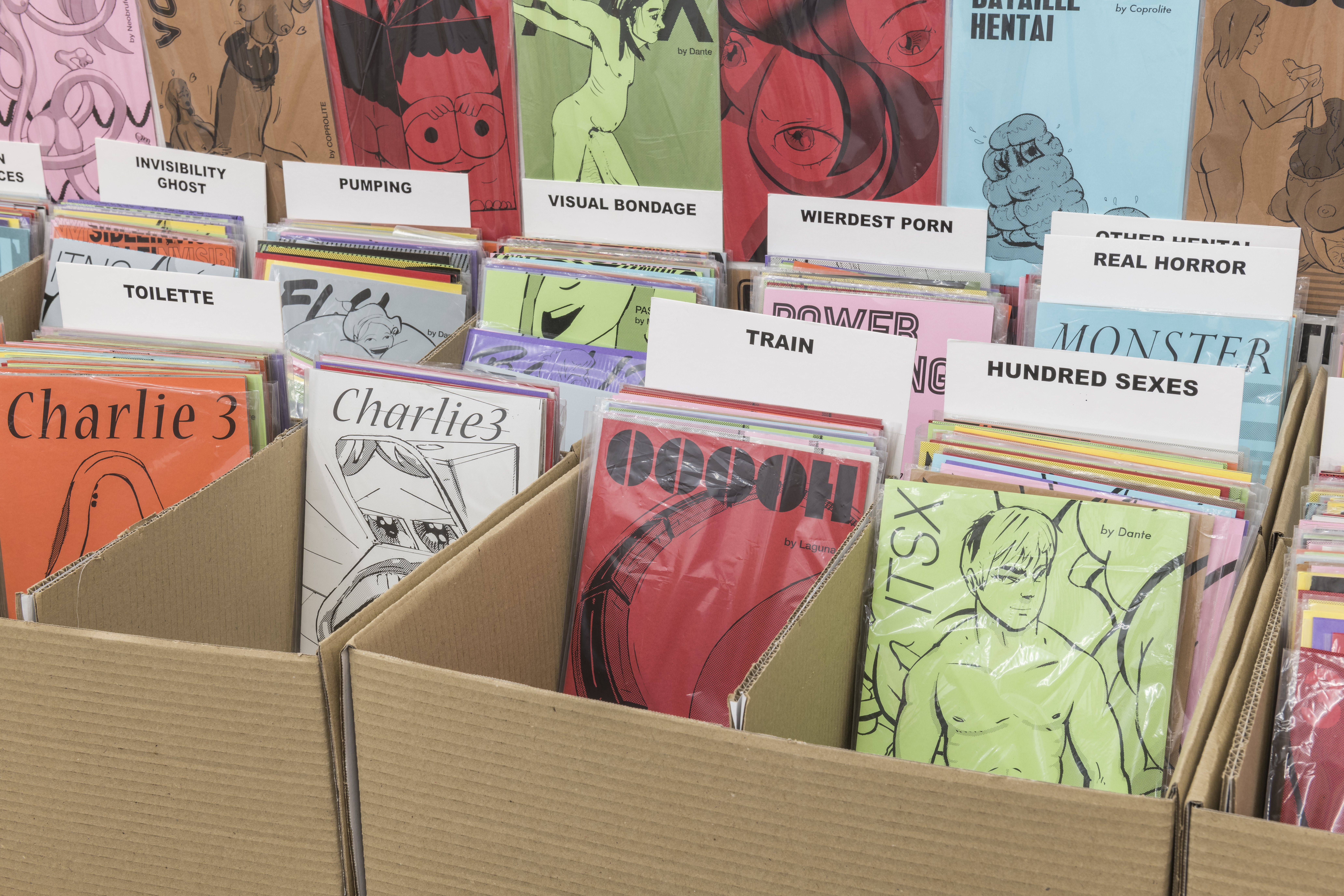 Francesc Ruiz, HOUSE OF FUN, 2019
House of Fun (2019), originally produced for Momentum, Nordic Biennial of Contemporary Art in Moss, Norway, is a pop-up comic bookshop offering a radical exercise of freedom of speech. Its content is focused on alternative hentai (i.e. sexually explicit manga), exploring radical fetishes and sexual imagery which test the power of drawing and cartoons to picture new bodies and new desires. This bookshop holds more than 4000 fanzines that build an imagined community of porn drawing prosumers and xeno-militants of the new flesh. A meeting point for subcultural practices, but also a safe space to explore and share new ideas, pushing the boundaries of representation.
Francesc Ruiz is fascinated by the aesthetic of the comic books of which he has been an avid reader since childhood. He is particularly interested in their narrative construction and the complexity of social systems conveyed by this aesthetic. Erotic and homosexual comic books in particular enable him to deal with issues such as censorship and creative freedom and thus to examine the evolution of social and individual identities. In parallel to his socio-political explorations he takes a more general interest in the various aspects of popular culture which dissimulate their subversive nature behind amusing façades.
Francesc Ruiz was one of the representatives of Spain at the Venice Biennale in 2015. His work has been exhibited in many institutions in Europe and can be found in many Spanish and French collections. He is represented in France by Galerie Florence Loewy (Paris).
Florence Loewy, active since 1989, moved to the Marais in 2001 where she opened a bookshop designed by the duo Jakob+MacFarlane and initiated a program of exhibitions that began with General Idea's Boutique Cœurs Volants. In 2017, the bookshop and gallery spaces were inverted to expand the gallery, focusing on the artists it represents. The programme continues to take into account the permeability between the projects of the artists and the bookshop, which host monographic exhibitions, book launches and collaborations around artist's books.
With the kind support of SOLID, wood construction workshop: scenography, joinery and carpentry.